Before and after the Mid-Autumn Holiday in September, there are electronic music festivals all around the country. PYRO Music, as we prepare for version 2.0, have decided to give our loyal users more benefits. We are offering free tickets to every festival! Specific details are at the end of this article. First let's take a look at each festival.
Concrete & Grass Music Festival
In the spirit of that videogame everyone's been playing: We caught them all. Noise-meisters, Party-starters, Legends. Hit-makers, Hip-shakers, Renegades of Funk. Beasties and humanoids alike. 60 artists across 4 stages. The full lineup for Concrete & Grass 2016 has everything from flamboyant J-rock and Cantonese hip-hop to big-bass Bollywood and American slacker rock. It's the best of China and the world, compressed into two remarkable days of music.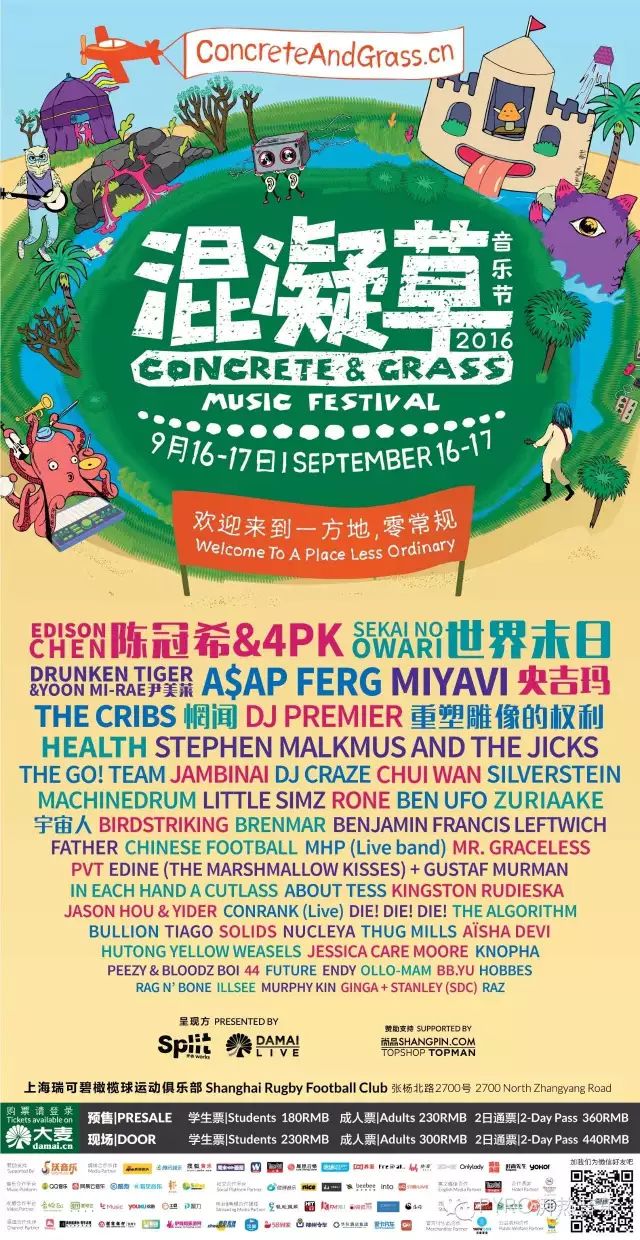 The Hardest Lunar Festival
This Autumn, witness as MOTI Dance and Art of Dance join forces to bring you the hardest lunar festival of all time. Start your adventure, as the bright moon casts its shadow on the dancefloor, conjuring mystical dragons in the night. Enter the empire of Hard Dance and experience the unique force unleashed by the finest sounds of our time. Gather your friends and follow the path deeper into the heart of darkness, to discover ancient emperors of legendary power. And when the dark moon rises, we stand together fighting in the shade.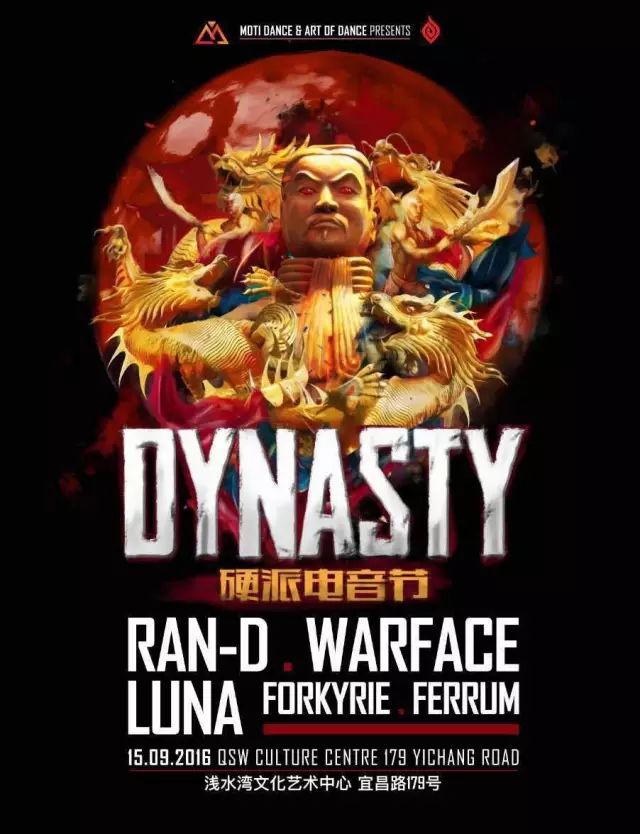 Beijing TEKNEST Music Festival
Finally, an outdoor electronic music festival is coming back to Beijing! Brought to you by dART with the help of 10Festival, a new outdoor creative electronic music festival has launched! TekNest combines hot as fire music with innovative multimedia art and creative performance.
YinYang Live Acts inYang Music Festival
YinYang Live Acts inYang Music Festival leading team has set itself as main goal to develop the Chinese Electronic Music Scene. Therefore this year, besides inviting the incredible live headliner HVOB, we have been digging out outstanding Chinese and China based live acts. Electronic music art can be much YinYang Music Festival is a 3 days and 2 nights non-commercial electronic music festival and art experience, founded in 2014 by The Mansion Shanghai.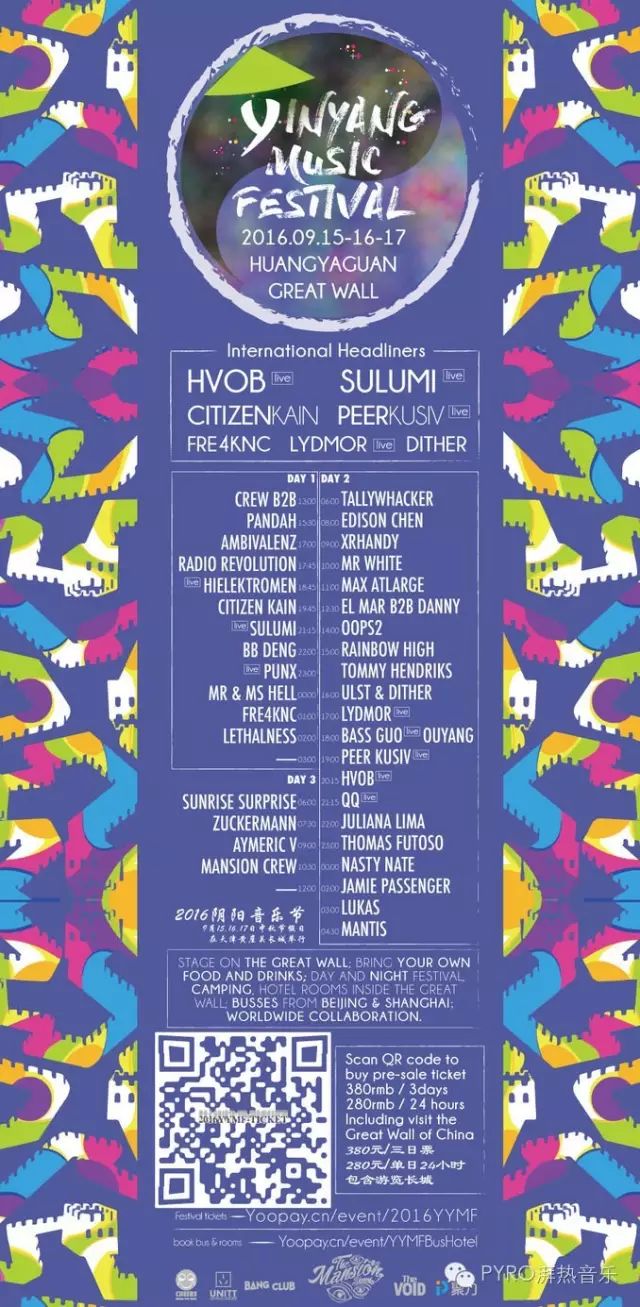 STORM Music Festival Guangzhou
Budweiser STORM Music Festival Guangzhou: September 10th – 11th, Tianhe Sports Center South Square. This stage could have only been designed with the concept of a future life, a future of music, a future of impact.  The Actaurians assume you will understand this complex theory.  If this is beyond your understanding, then you don't belong here.  Be aware, and be careful.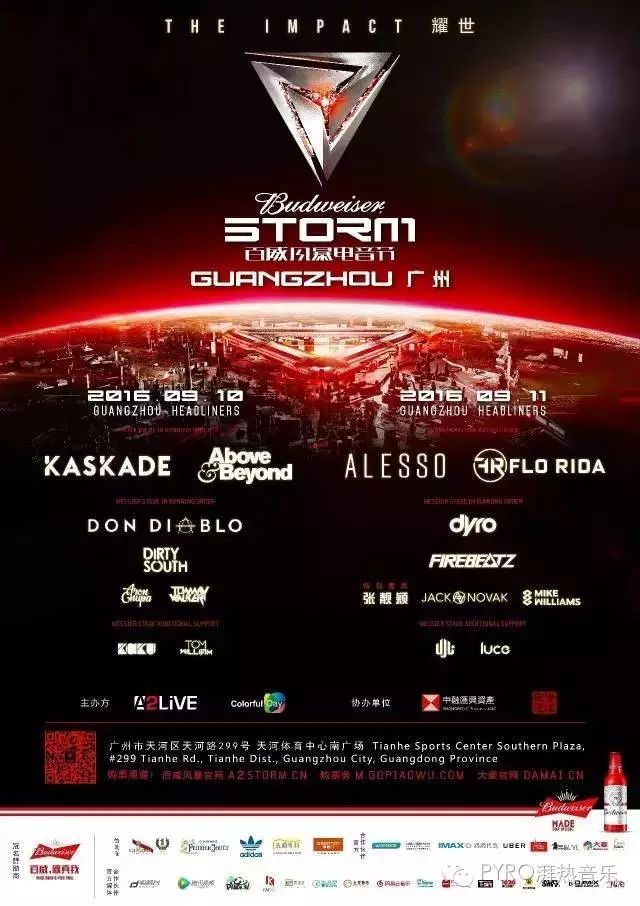 How to get these ticket free
Share your favorite songs in PYRO Music on Wechat or Weibo, don't forget add which festival you want to go

Send the screenshot & Pyro ID to PYRO Music official accounrt on wechat

We will choose two lucky guys in each festival

This activity will be closed at 0:00 on September 5

th

,2016

The final explanation right of this activity is reserved by PYRO Music